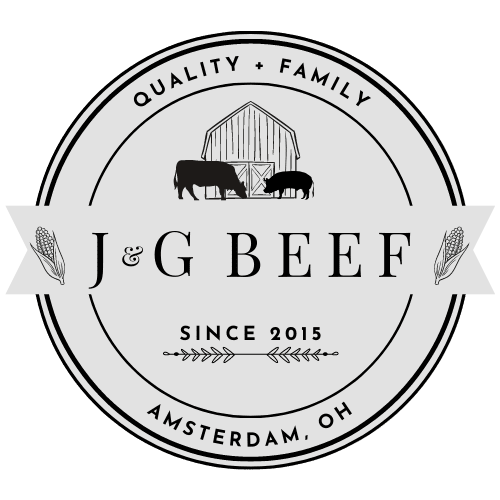 High Quality Meat.
Ethically Raised.
Ohio Craft Beef, delivered from our family to yours.
The best home grown meats are ready for you to try! Our cows enjoy grazing in our pastures, and in addition to grass, our cows receive extra nutrients from hay and corn from our J&G Farm. Unlike other sites, we provide a quality product at a much more realistic price point.
You can purchase any of our local meats! If you have special requests or require other accommodations, please email us at [email protected] for more information and assistance from our J&G Family.
Our feeding program consists mostly of grass. While we don't claim grass fed, the majority of what we feed is either pasture grass or hay.  Once the cows are getting closer to finishing weight, we will use a grain ration to increase the marbling of the meat. Marbling is what gives quality beef that full flavor.
What separates us from store bought meats? We don't use any growth hormones that are commonly used to increase rate of gain. While these are a great way for producers to add extra pounds efficiently, we just don't see a need for them.  Instead, we focus on quality genetics and feed sources. 
If you have any further questions about our operation, please feel free to contact us via the 
contact page
. 
Here at the J&G, conserving resources is our number one priority.  Since we live and raise our families on this land, we provide and ensure a safe environment for our families and animals. 
Our Beginnings
J&G Cattle Company was founded in 2015 and is the continuation of a fourth generation farm whose operations date back to 1920. Over 300 acres gives way to extensive woods, streams, pasture and crop ground that are ideal for prosperous, abundant growth. 
The J&G Difference | Beyond the Food 
Every other year advanced soil testing is implemented to ensure nutrient balance, soil productivity and health that will provide the most optimal growth for our crops and hay.

By minimizing fertilizer use, we are able to increase our overall production of nourishing products.

J&G utilizes Precision AG Data to effectively manage our operations that reflect our high quality standards.

J&G goes beyond the company in serving the local community in actively advocating for agricultural awareness and education, emphasizing the importance of knowing where and how your food is cultivated and raised.